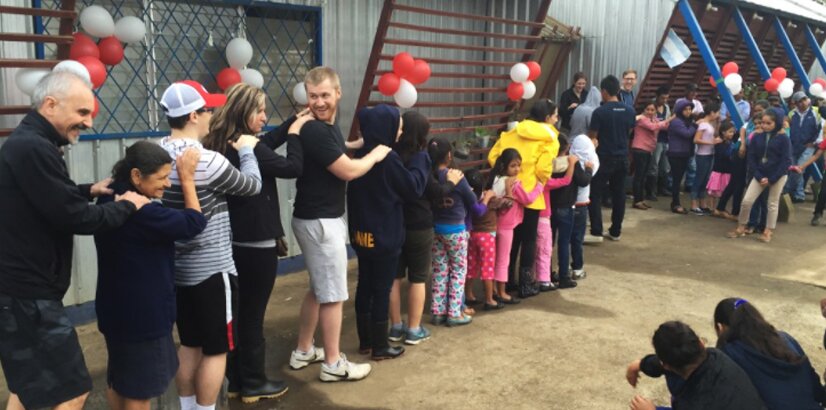 Created Date: May 07, 2016
Author: bridgestocommunity
Category:
Comment(s): 0
Jamie F – CSG Trip Feb 2016
Prior to going to Nicaragua I signed up for two outreach trips with another organization to travel to Nicaragua and backed out twice. At the time I didn't feel I was ready for the experience and now having been with CSG I am really happy that I waited. The experience in itself was absolutely incredible. Witnessing first-hand how other parts of the world live, both the good and bad, was really eye-opening. Seeing the condition of the home that we stayed in compared to our homes was surprising at first but then when we went into Sasle and saw the condition of the homes that the locals lived in really put things into perspective. The locals were some of the most genuine and friendly people I have ever met in my life! On our first night at the welcome ceremony so many people who were strangers were so happy to see us and would just come up to us and hug us. One of the little girls would not let go of my hand and even though we couldn't talk to each other because of the language barrier, she held my hand for at least 45 minutes and we played and danced and had so much fun together. Memories like that will stay with me forever. What I am taking away from this experience is that everyone is different. What I mean by this is that although we would love to see the country of Nicaragua develop economically and thrive like Canada, that isn't necessarily what they want. The lifestyle we are accustomed to isn't what they are looking for. They are happy with a modest lifestyle but they just want to know where their next meal is coming from and that they can provide for their families.
What made this trip so incredible was the group of people from CSG. Prior to going to Nicaragua I didn't know many people outside of my own division and I certainly did not know much about CSG operations since we are a tech division. Before we even landed in Nicaragua I learned so much about our company just through casual conversations with the other travelers in airports and on the plane. Spending a week with co-workers who have similar values as I do and living out the CSG values together was fantastic. Our group meshed together so well and we all balanced each other out that it worked! For many of us it was our first time going to Nicaragua so it was nice to experience that together. Through this experience I have developed life-long friendships with other CSG employees that I may not have met had it not been for this trip. The BTCC Nicaragua trip isn't just about building houses, it is about building memories too.